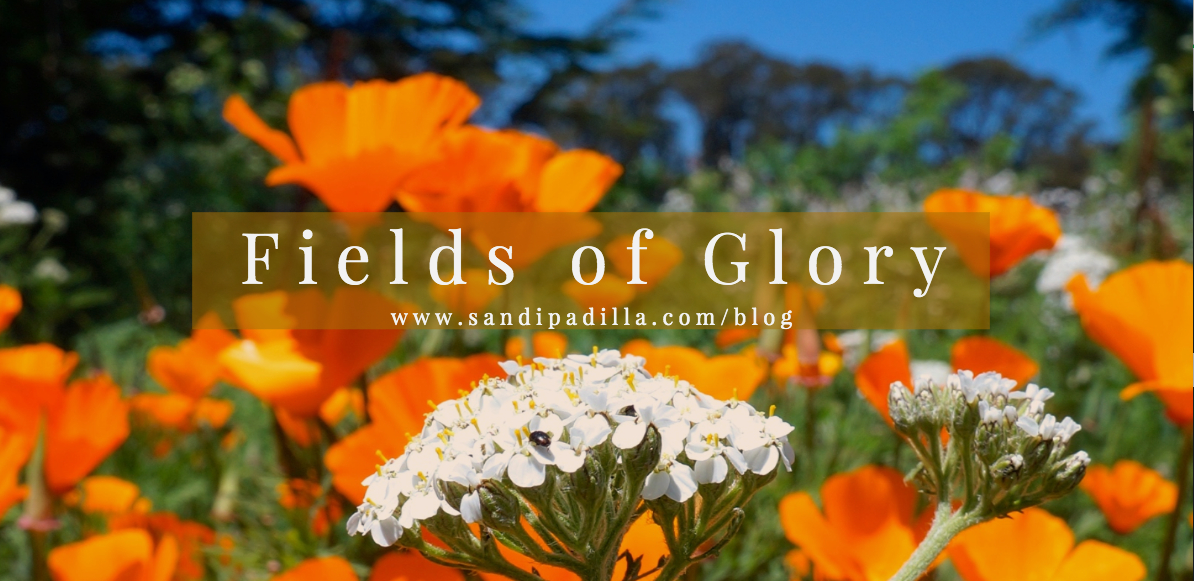 "Consider the lilies, how they grow: they neither toil nor spin, but I tell you not even Solomon in all his glory clothed himself like one of these.  But if God so clothes the grass in the field, which is alive today and tomorrow is thrown into the furnace, how much more will He clothe you?"  Luke 12:27-28
Growing up I remember going on Sunday afternoon drives with my family in northern California. My dad liked to bring his camera and photograph the fields of poppy flowers blooming in the early Spring. From horizon to horizon the warm sun cascaded across the wide open landscape where the golden orange hue met azure blue. One particular day I remember being in awe at the seamless carpet of bright orange flowers and recall my mom humming a little tune and singing the words "Golden Poppies" which for me added magic to the moment. Looking back on these fond memories I realized that because the poppy was our state flower it really became one of my favorites.  As I studied more about this unique flower I learned how resilient it can be during times of drought. I believe that this flower's special quality reminds us that we can face and withstand the trials and difficulties we go through in our lives with resilience and grace.  
The Psalmist, David had this confidence because God revealed himself as "Jehovah Ra'ah", the Lord, my Shepherd.  As he tended the sheep David developed a deep, intimate trust between himself and God just as he nurtured the relationship between himself and his flock.  In Psalm 23 he expressed that relying on the Lord his Shepherd brought lush pastures, refreshment and restored strength. In fact David revealed that he lacked nothing.  Even when walking through a dark ravine, "I fear no danger for you are with me; your rod and staff keep me calm." 
What can bring us that same quiet, steady confidence? With the help of our Shepherd we can stand graceful and tall as we go through the turbulent storms in our lives.  Just as the poppy flower does we can maintain our beauty and brilliance as we go through parched, arid seasons of drought . You and I can bend and sway as the winds of change blow and we can remain hopeful, resilient and strong as we lie still and wait for God to provide for us. Like David, the shepherd boy, we do not need to worry.  Our Shepherd, Yeshua loves us and will always watch over us and take care of us. Then as the Holy Spirit carefully tends, waters and tills the soil of our hearts he will scatter us like seeds until they become like magnificent fields that show God's glory and redemptive work. 
Heart Talk:  Dear Jesus, help me see You and know You as my loving Shepherd.  Be the One who leads me and guides me onto the right path.  I need Your direction, strength and guidance every day.  Thank You for providing for me and giving me new green pastures to bring me nourishment in my life.  Continue to protect me and remove all worry and fear from my heart. Lord, I want to fully depend on You even when the things I am going through may be troublesome.  When I walk through the desert, remind me that You are with me to comfort and help me. Continue to tend the soil of my heart and transform me into a field of glory for the sake of Your kingdom.  Lord Jesus, thank You that I belong to You.  May Your goodness and mercy follow me all of the days of my life.  Amen.