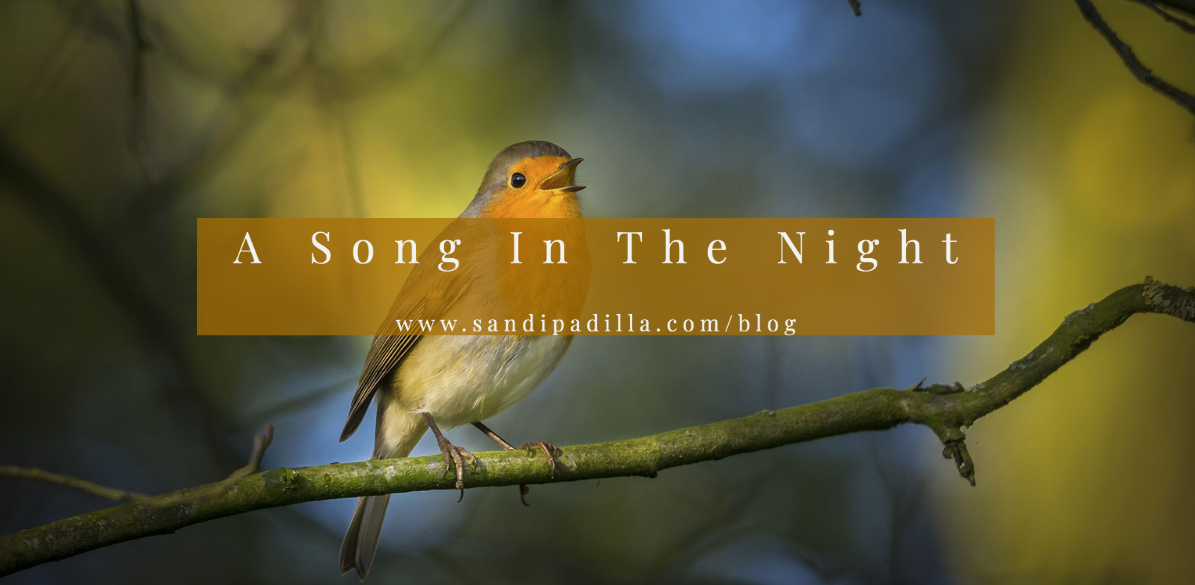 A few years ago I really thought I was on target and knew God's plan and purpose for my life. I had come into a new season and I had an idea! I would launch into "coaching" and equipping women. Every week I met with a group of Christian businesswomen and leaders who asked strategic questions and gave their input and insight into various topics. We also spent time praying for each other and really pressed in to the Holy Spirit as we asked for guidance and direction.One week we had a homework assignment. Each of us was to bring something to share the following meeting - like what we were working on. Honestly, I was stumped. A few days passed and then I prayed, "Lord, what should I share with all of these bright, amazing, talented women?" Without a pause He spoke to my heart and said, "Sing them one of your songs." I'm pretty sure my mouth dropped open – probably to the floor. I was stunned. I went to one of my journals and read through my "to do list". All of the things that were on my mind as "top priority" were listed.As I glanced over it I realized that at the very, very bottom of my list was songwriting, and creating art. Sing a song…at a business meeting? For a few moments I began to protest. Lord, these are all businesswomen! How does this fit? Then I heard the Lord say, "I created you to sing and share music." As I wrestled with my fears and insecurity I knew it was absolutely pointless to argue with God.
Okay, now I had to figure out what song I would sing.
Then I remembered someone saying that the last song you've written is more than likely your best one. A wave of vulnerability crashed over me and I burst into tears.You see, just a few days earlier I had written a song for our 22 year-old son, Paul who had just been released from the hospital after a near brush with death. After surviving an overdose of three tabs of Acid he was back under our roof sleeping on our sofa as he recovered. The Dr. said that the drugs had induced an episode of severe psychosis. Night after night we watched Paul struggle to sleep. Then when he did fall asleep he would jolt awake because his brain was trying to heal. It was rough. We had no one to really help us walk through this dark valley except the Lord. One night the Holy Spirit said, "Play all of the black keys on the piano and it will help him sleep." So I did. Amazingly, he slept.
A few nights later I wrote the song, "Lord, Have Mercy" as a gut wrenching prayer and a signal of hope.God's mercy had already been running deep and wide for our family. The lyrics in the chorus said, "For the weak, You give strength; For the weary, You give rest; For the lost, You lead them home; For the lonely – they're never alone." I knew deep down that this was the song I was to share with my women's group. But there was a problem – I'd break down crying every time I would sing it. Solution? I video recorded the song and at the next meeting I shared it. As I played the video recording there wasn't a dry eye in the room. In faith I told them that God was going to heal my son. I also told them how God had flipped all of my "priorities" around and that I was going to embrace my calling as a singer-songwriter in a whole new way. It was these women who reminded me that our gifts are inside of our calling, not separate from it.
As I write this it seems like yesterday but all of this happened four and a half years ago. I am thrilled to say that our son rededicated his life to the Lord and was re-baptized on Father's Day 2019. Because of God's perfect timing I had already bought airline tickets to CA and it was wonderful to be there in person to see Paul's baptism. That morning I sang the song I had written for him. As a quick update: he is still healing but doing very well. I am so grateful that God's mercies are new every morning! 
Romans 12:15-16 reminds us… 
Rejoice with those who rejoice, 
Weep with those who weep. 
Live in harmony with one another. 
AND
Sing a song when it needs to be sung!
(SPV - Sandi Padilla Version!)