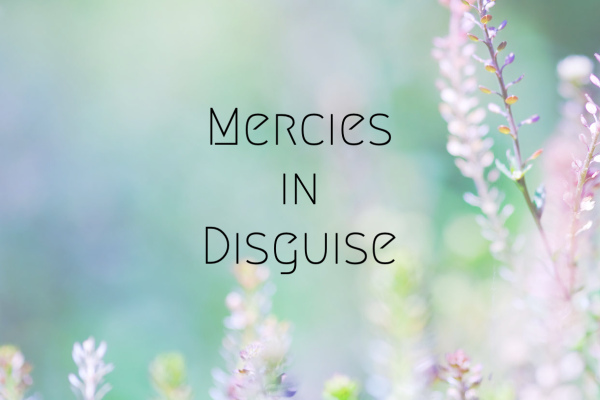 "We pray for blessings. We pray for peace. Comfort for family. Protection while we sleep. 
We pray for healing. For prosperity. We pray for Your mighty hand to ease our suffering. 
And all the while You hear each spoken need yet love us way too much to give us lesser things. 
What if your blessings come through raindrops, what if your healing comes through tears, 
what if a thousand sleepless nights are what it takes to know You're near?
 What if trials of this life, are Your mercies in disguise?"
I think these lyrics really cut through the surface, don't you? Laura's song challenges us to think about the way we tally up only the good things that come our way as blessings. What about the struggles? We all have them. The apostle James reminds us to "Consider it pure joy...whenever you face trials of many kinds, because you know that the testing of your faith produces perseverance." (Wow! And I thought the lyrics of "Blessings" were challenging!) But I think this verse expresses the last poignant phrase of Laura Story's chorus: "What if trials of this life, are Your mercies in disguise?" 
Life sometimes pushes us to reach out in prayer. We hear Jesus whisper, "Come to me, all you who are weary and burdened, and I will give you rest." Relief and healing are available to us. Twenty-four hours a day, seven days a week! The Lord is saying He can and will help us. Are we ready to trust Him? Do we believe He is for us? 
Like an infant learning to walk for the first time, the parent must allow their child to struggle. Why do they choose to watch and wait? If the parent decided to pick up the child every time they saw them wobble, the baby's muscles would not be strengthened. Most likely it would delay their child's development. So, is it merciful to allow the baby to stretch, push and learn to roll over by themselves? To learn to lean forward and fall down? Yes, it is. In fact, it is loving. 
The word "mercy" in Hebrew it translates as "lovingkindness". Mercy is "hasdekah" (Strong's H2617) God allows us to go through difficult things because He knows what will happen as we go through it. He also knows the outcomes we will experience on the other side. Challenges will change us. Difficulties will discipline us. Obstacles will become opportunities. For me, James 1:4 truly sums up WHY life's trials are God's mercies in disguise: "...so that you may be perfect and complete, lacking in nothing." 
I hope you will discover as I have through the years that praying is just like breathing. Quick, whispered prayers to God are heard just as much as others – whether with a prayer partner or in a group or own personal setting. And I like what St. Augustine said, "To sing is to pray twice." So, as you can imagine I do that a lot! 
When we view the circumstances of our lives through the lens of God's mercy, we will find multiple blessings. I'm praying you will find yours today!